Neutrino Day: What's new in 2023?
Image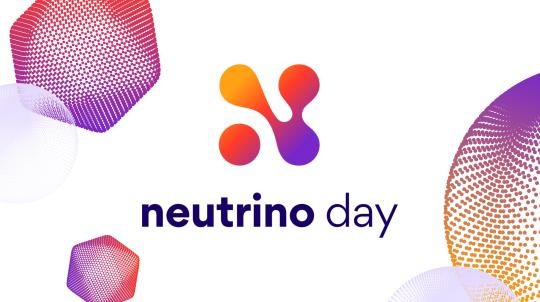 This year, Neutrino Day will be held on Saturday, July 8. Sanford Underground Research Facility's (SURF) free, citywide science festival includes hoistroom tours, activities for all ages, engaging science talks, and special treats like nitrogen ice cream and popcorn in the science theater. In addition to these Neutrino Day favorites, this year's attendees will discover new activities, speakers, and demonstrations. 
"Each year, we try to bring engaging new science experiences to our attendees," said Constance Walter, Neutrino Day coordinator. "We're excited to announce all the new offerings coming to Neutrino Day in 2023!" 
Stratospheric balloon launch 
Neutrino Day will start with the launch of a stratospheric balloon at 8:30 a.m. in Manuel Brothers Park. Stratospheric balloons provide access into the regions too low for satellites and too high for aircraft to explore, helping researchers study our world from above. Our early-riser attendees will witness the preparation, launch, and demonstration of this lighter-than-air technology.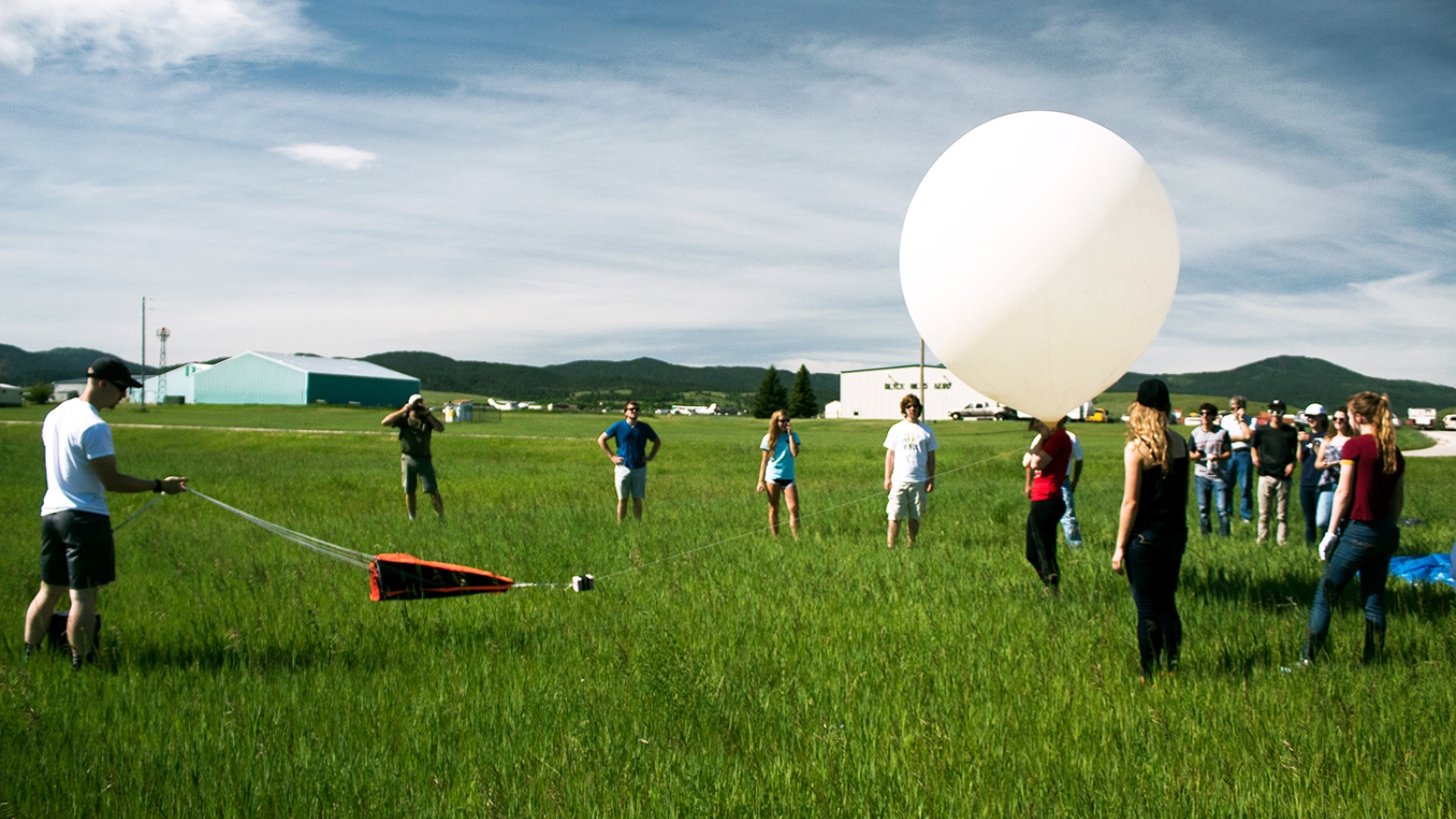 A crowd prepares to launch a NASA weather balloon in preparation for the Total Solar Eclipse 2017 event at the Black Hills Airport in Spearfish, South Dakota, on June 9, 2017. Photo by Christel Peters. 
Little Shop of Physics 
For the first time ever, SURF is excited to welcome Colorado State University's "Little Shop of Physics" to Neutrino Day! Little Shop of Physics doesn't just teach science—their team of education professionals helps attendees experience science in interesting and accessible ways, demonstrating that science is something that anyone can do. 
"The stuff we do is exciting, it's fun, it's engaging," said Brian Jones, director of Little Shop of Physics. "It's effective. We have some great data that shows that the lessons we present—the experiments, the experiences we share with kids—teaches them. It's hands-on, kids are working with things, they are touching things, they are making stuff happen." 
Little Shop of Physics will be located at the Hampton Inn from 9 a.m. to 3:30 p.m. 
Hands-on activities 
In addition to the Little Shop of Physics, our Neutrino Day partners are bringing dozens of new, hands-on activities to Neutrino Day. 
Discover the not-so-mysterious forces behind the phases of the moon with STARBASE. Detect invisible particles in real time using a cloud chamber and explore how researchers shield their experiments from radiation with QuarkNet. Learn how to program robots with the basics of block coding with Dakota State University's CybHer program and the Technology and Innovation in Education. Experiment with a model of SURF's underground dewatering system to see how our engineers keep the underground dry. Learn about biofilms—sticky substances that can be found all around us—and how they impact our daily lives with Black Hills State University's Center for the Advancement of Math and Science Education. 
Hands-on activities will be located at the Handley Recreation Center from 9 a.m. to 3:30 p.m.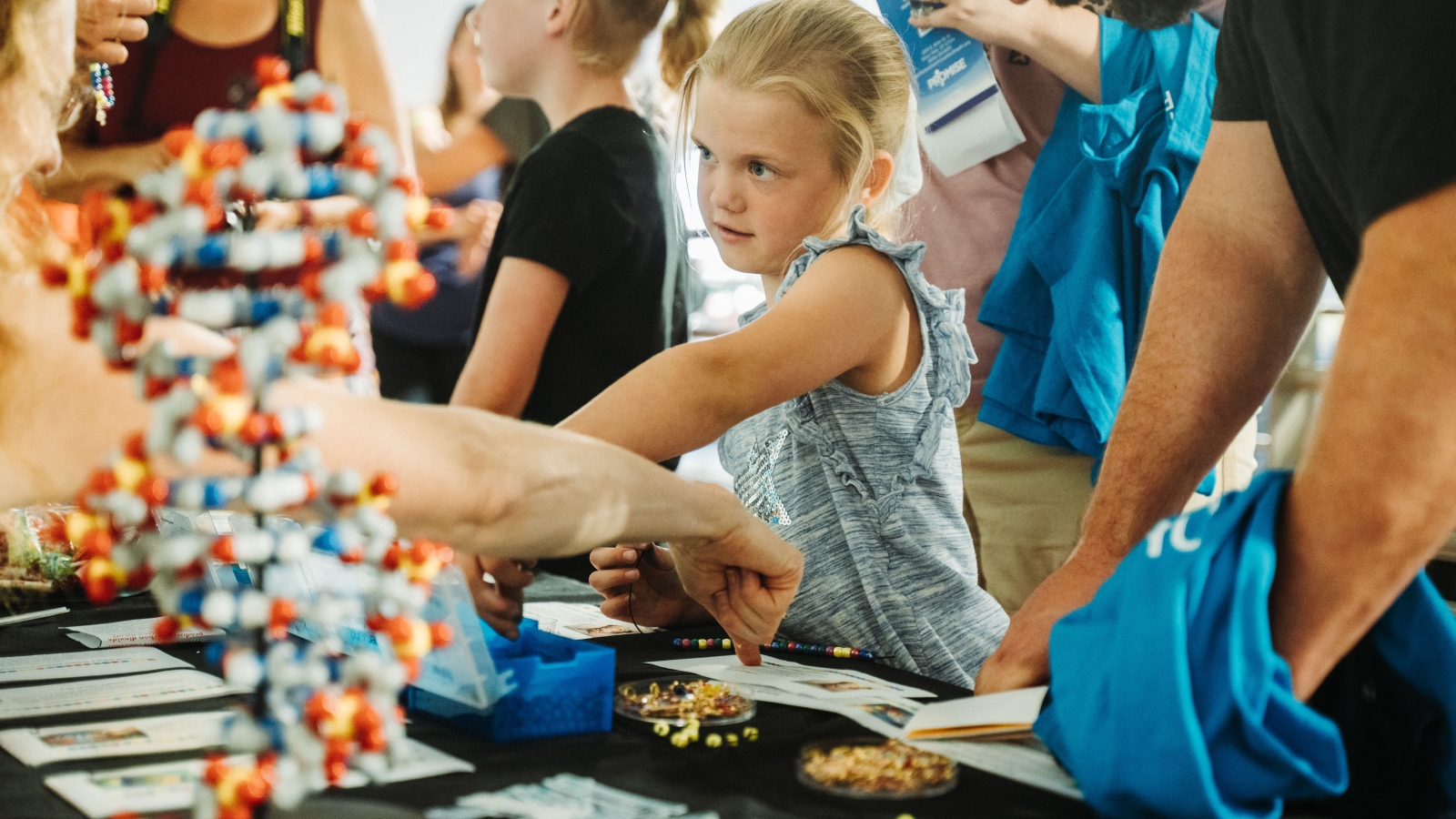 Attendees take part in hands-on activities at Neutrino Day 2022. Photo by Adam Gomez. 
Our 2023 speaker line-up 
Neutrino Day truly has something for everyone. For those who want a deeper understanding of science and the opportunity to ask scientists about their research, our livestream from the underground and scheduled talks are for you. 
Our first talk will be broadcast from 1,700 feet below the surface! Dan Pierce, field operations manager with Caterpillar, will connect with guests from CAT's laboratory on the 1700 Level of SURF. Pierce will explore the CAT MineStar for Underground technology, which leverages Wi-Fi to transform the way people and equipment navigate underground at locations around the world. "CAT MineStarTM for Underground" begins at 10 a.m. at the Sanford Lab Homestake Visitor Center. 
Next up is Sam Meijer, a staff scientist at Los Alamos National Laboratory. Since 2021, Meijer has lead a team of researchers looking for the decay of nature's rarest isotope: tantalum-180m. Meijer will discuss how this experiment was built on the 4850 Level of SURF, what the collaboration hopes to discover, and how this experiment will impact physics. "Searching for the decay of the Universe's rarest isotope" begins at 11:30 a.m. at the Historic Homestake Opera House. 
Chief Henry Red Cloud is from Red Cloud Renewable, a Native-led nonprofit on the Pine Ridge Reservation that focuses on finding energy-efficient solutions for the people who live there. Drawing on his family and cultural history, Red Cloud will share the cultural connections of the life-giving power of the sun and its relationship to the way the Lakota people have honored that force through the Sun Dance Ceremony. "Innovations at Red Cloud Renewable" begins at 1:30 p.m. at the Historic Homestake Opera House. 
Our Neutrino Day keynote speaker is Earth's premiere science comedian, Brian Malow. Malow's unique blend of comedy and science has been entertaining audiences from TEDx Berkeley to Los Alamos National Lab, and he's made a name for himself as the go-to comedian for all things nerdy. This evening of smart, geeky laughter begins at 4 p.m. at the Historic Homestake Opera House. Admission is free, but space is limited, so arrive early. 
Check out our full speaker lineup.
New locations 
This free, citywide festival takes place at locations across Lead, South Dakota. Due to road construction on Mill Street, no activities will be held at the Sanford Underground Research Facility this year. Activities will take place at the Sanford Lab Homestake Visitor Center, the Historic Homestake Opera House, the Lead-Deadwood Arts Center, the Handley Recreation Center, and, for the first time, the Hampton Inn. Trolley tours will take guests to Sanford Underground Research Facility for a surface tour of the Yates Hoistroom. 
Check out the Neutrino Day schedule to see what each location has to offer.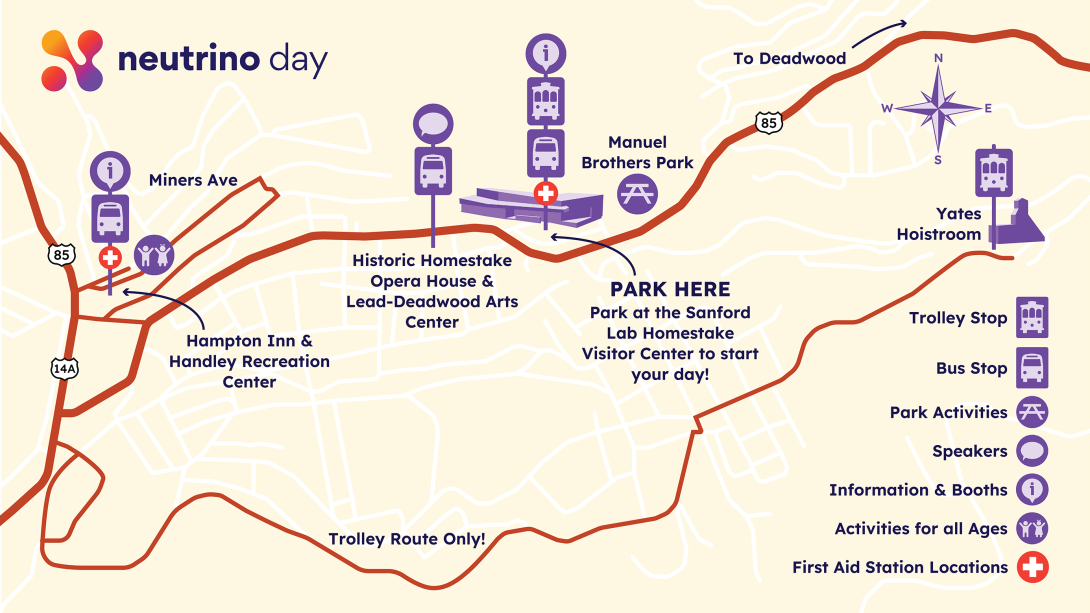 Graphic by Ashley Beguin.