Historic Homestake Opera House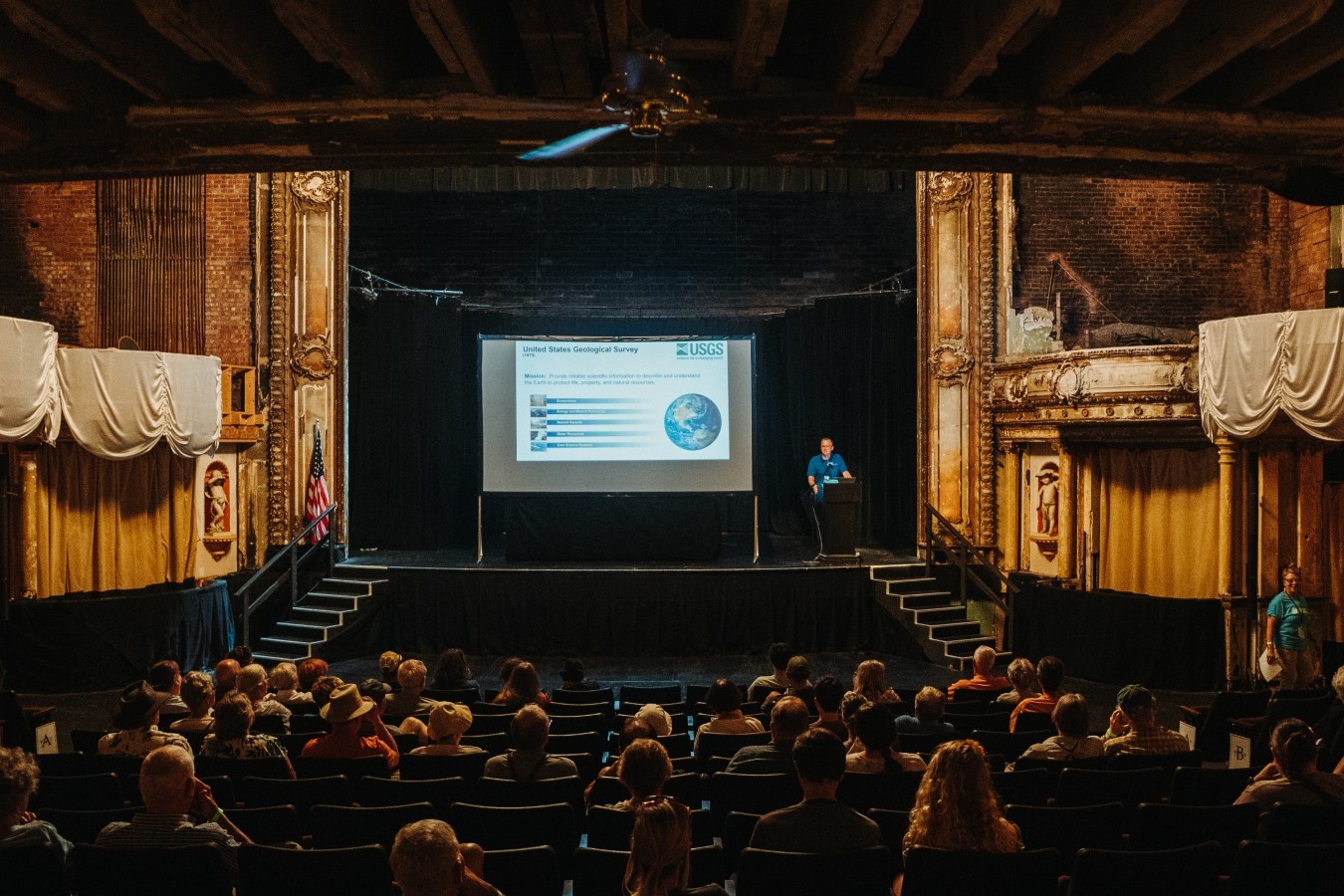 The Opera House will host three in-person science talks throughout the day.
Top tip: Most activities and demonstrations are ongoing throughout the day. But science talks and livestreams happen just once. View our schedule of events.
About the Speakers
Brian Malow
Get ready for a night of smart, geeky laughter with Science Comedian Brian Malow. His unique blend of comedy and science has been entertaining audiences from TEDx Berkeley to Los Alamos National Lab, and he's made a name for himself as the go-to comedian for all things nerdy.
From his appearances on the Science Channel, the Weather Channel, and the Late Late Show with Craig Ferguson, to his interviews with Nobel laureates and young scientists, Brian has a talent for making science accessible and hilarious. His comedy has even been heard in some of the most unlikely places - from an orbiting space shuttle to a neutrino lab 2km underground.
A favorite of Neil deGrasse Tyson's StarTalk Radio, Brian has also produced science videos for Time Magazine and been featured in the New York Times, SF Chronicle and Washington Post. He has even worked with NASA and the National Science Foundation, proving that his love for science is just as real as his comedy skills. You can currently see him on streaming platforms in the documentary "Science Friction" and it's easy to see why he's considered Earth's Premier Science Comedian (self-proclaimed).
Available for off-world appearances, if transportation is provided.
Sam Meijer
Sam Meijer is a staff scientist at Los Alamos National Laboratory and co-principal investigator of the tantalum experiment on the 4850 Level of SURF. In 2021, the Majorana Demonstrator's science run ended, and the detector was repurposed to search for the decay of nature's rarest isotope: tantalum-180m. Meijer will discuss what the collaboration knows, what they hope to find, and how it will impact physics. 
Chief Henry Red Cloud
Chief Henry Red Cloud is from Red Cloud Renewable, a Native-led nonprofit on the Pine Ridge Reservation that focuses on finding energy-efficient solutions for the people who live there. Henry and his family are direct lineal descendants of Mahpiya Luta (Red Cloud). Mahpiya Luta played a crucial role in the signing of the Fort Laramie Treaty of 1868.
Drawing on his family and cultural history, Henry will share the cultural connections of the life-giving power of the sun and its relationship to the way the Lakota people have honored that force through the Sun Dance Ceremony.
Henry will also reflect on the history and sacred nature of the Black Hills to the Lakota people—and the work that remains to be done by Western science to ensure that current research in our area becomes accessible to all.