Your guide to Neutrino Day, SURF's citywide science festival
Image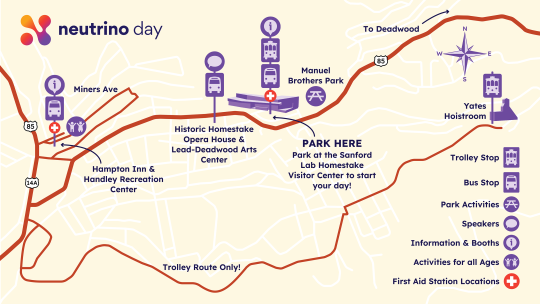 Sanford Underground Research Facility's (SURF) free, citywide festival will take place Saturday, July 8, 2023, at locations across Lead, including the Sanford Lab Homestake Visitor Center, Manuel Brothers Park, the Sanford Underground Research Facility's Yates Hoistroom, the Handley Recreation Center, the Hampton Inn, the Lead-Deadwood Arts Center, and the Historic Homestake Opera House. Throughout the day, attendees will find all their Neutrino Day favorites and discover new experiences, activities, and speakers.
With so much to see and do, we know that planning your Neutrino Day experience can be a bit overwhelming. So, we created a guide with tips from our event planners to help you make the most of Neutrino Day this year.
Start your day at the Sanford Lab Homestake Visitor Center
The Visitor Center is the best place to start your Neutrino Day experience. From the Visitor Center, trolleys take visitors to Hoistroom Tours and school busses shuttle guests to other locations throughout the day.
Learn about the history and legacy of Lead through exhibits and view a model of the underground, Davis Ring and the Open Cut. On the observation deck, peer into the sun through a solar telescope.
Chat with a researcher underground through our livestream presentation in the Visitor Center classroom. Join Dan Pierce, field operations manager with Caterpillar, will connect from CAT's laboratory nearly 1,700 feet below the surface! Pierce will explore the CAT MineStar for Underground technology, which leverages Wi-Fi to transform the way people and equipment navigate underground at locations around the world (10 a.m. at the Visitor Center).
Tour the surface Yates Hoistroom at SURF  
Tickets for the Yates Hoistroom tour are available at the Visitor Center. Tours are free, but there is limited availability. 
Top tip: Hoistroom tours spots fill up quickly! We recommend arriving early to get your ticket, but no earlier than 8:30 a.m.
Witness the launch of a stratospheric balloon 
Neutrino Day will start with the launch of a stratospheric balloon at 8:30 a.m. in Manuel Brothers Park. Stratospheric balloons provide access into the regions too low for satellites and too high for aircraft to explore, helping researchers study our world from above. Our early-riser attendees will witness the preparation, launch, and demonstration of this lighter-than-air technology. 
Top Tip: Don't forget to pack sunscreen and extra water!
Attend science talks 
The Opera House will host three in-person science talks throughout the day. First, learn about the search for the decay of the Universe's rarest isotope with Sam Meijer, a staff scientist at Los Alamos National Laboratory (11:30 a.m. at the Opera House). Next, explore innovations in renewable energy with Chief Henry Red Cloud, who leads a Native-led nonprofit on the Pine Ridge Reservation (1:30 p.m. at the Opera House). 
Don't miss our Neutrino Day finale! This year's keynote speaker is Brian Malow, Earth's premiere science comedian and go-to comedian for all things nerdy. This evening of smart, geeky laughter begins at 4 p.m. at the Opera House. Admission is free, but space is limited, so arrive early.
Top tip: Most activities and demonstrations are ongoing throughout the day. But science talks and livestreams happen just once. View our schedule of events.
Get your hands on science 
The Handley Center is your stop for hands-on activities for all ages from 9 a.m. to 3:30 p.m. 
Discover the not-so-mysterious forces behind the phases of the moon. Detect invisible particles in real time using a cloud chamber and explore how researchers shield their experiments from radiation. Learn how to program robots with the basics of block coding. Experiment with a model of SURF's underground dewatering system to see how our engineers keep the underground dry. Learn about biofilms—sticky substances that can be found all around us—and how they impact our daily lives. 
Plus, talk with scientists who work deep underground at SURF. Researchers studying biology, geology, astrophysics and particle physics will be there to answer questions about the experiments.
Explore the Little Shop of Physics 
For the first time ever, SURF is excited to welcome Colorado State University's "Little Shop of Physics" to Neutrino Day! Little Shop of Physics will be located at the Hampton Inn from 9 a.m. to 3:30 p.m. This crew doesn't just teach science—their team of education professionals helps attendees experience science in interesting and accessible ways, demonstrating that science is something that anyone can do. 
Top tip: In July, Neutrino Day can get hot! Cool off at the South Dakota Mines nitrogen ice cream station at the Hampton Inn.
Meet SURF's Artists in Residence  
Join us for a Neutrino Day meet-and-greet with SURF's 2023 Artists in Residence, Nicholas Kahn and Richard Selesnick, from 2:30 to 3:30 p.m. at the Lead-Deadwood Arts Center. Kahn and Selesnick will be in the middle of their four week residency at SURF, the deepest underground laboratory in the United States. 
The artists will visit surface and underground spaces of the facility and explore the scientific concepts being researched. These experiences will inspire a body of artwork, culminating in a public exhibition and outreach presentation in the fall of 2023.
Plan your unique experience at NeutrinoDay.com!
We are adding activities throughout the month, so there's even more coming your way! To plan your complete Neutrino Day experience, visit www.neutrinoday.com/schedule.